Artistic Plaster and Stucco - About Us
Artistic Stucco LLC is a family owned company. We are commited to quality and we will make sure you are satisfied with our products. We take pride in our work and references are available upon request.
Our projects include: interior plaster walls and ceilings, plaster trim, plaster finished fireplaces and kitchen hoods, stucco window trim and sills, stucco and plaster finished columns, balustrade systems, exterior stucco walls and ceilings, custom designed entrances, custom stucco and plaster projects.
Contact us for a free estimate today. We are based in Atlanta, GA but are willing to discuss plaster and stucco opportunities in other cities.
About Our Services
Natural Plaster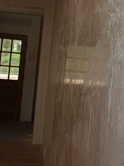 We believe our Natural Plaster should be on every wall of your house. Our Plaster is elegant, clean, and healthy. Why would you live between unhealthy painted walls when you have a natural alternative? Our plaster is made out of natural ingredients and it breathes keeping your house cool in the summer and warm in the winter. Plaster prevents mold and mildew. It is not the chemical/acrylic based (plasticky) plaster you'll find at your local hardware store.
Our plaster projects include: walls and ceilings, showers and bathrooms, fireplaces, scored plaster (block imitation), custom trim, dommed ceilings.
Venetian plaster can be applied in 2, 3 or more coats. The plaster will become creamier with every additional coat. It can be burnished or not depending on the look and feel you want to achieve. It can be waxed for a shinier look or sealed for a greater resistance (specially in showers). It can be custom matched to any color and texture you like. The plaster we're using is very affordable and you might be surprised when the venetian plaster price you found out on the internet is way above ours. Do not get this the wrong way: the quality of our product will not be affected or diminished by the price - try it first on a small wall, we are sure you will like it. Our plaster can be applied on a variety of surfaces; it even can be applied on already painted walls. Contact Us at 770 402 3320 or europeanstucco@yahoo.com to talk about your set-up and your plaster and stucco project.
Stucco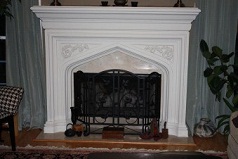 Stucco is elegant, durable, high customizable and can be applied to a variety of building shapes in a variety of ways. It can have a lime based finish: burnished/slick, smooth, skip-trowel, or it can have an acrylic based finish. Any color and texture can be custom matched. No matter of the finish you decide to use, you will end up with a house with beautiful walls and character.
From stucco we can create any architectural design. Fireplaces, kitchen hoods, exterior window trim on brick, corinthian and ionic columns, balustrades, dommed ceilings (cupolas) are only a few examples of our projects. All we need from you is a blueprint, an architecural sketch or a picture of your desired outcome. We will make it happen.
Traditional stucco is made out of cement, lime and sand. It is applied in a 3 coat system: scratch, brown and finish coats over a waterproof system (felt paper, tyvek). Metal mesh is applied on the walls before applying stucco. Stucco is affordable and its prices vary depending on the system you decide to choose. To tell you an example on how the price can vary, an extra reinforcement coat over the existing stucco can be applied to prevent cracks for an extra $ 1.50 / sq.ft. Whichever system you choose you will end up getting the value for your money.